SAVI Systems presents the Arcam FMJ- A29 Hi-Fi Amplifier
Arcam have years of experience building simple to use, elegantly designed great British Hi-Fi. Arcam has made a name for itself for both great Hi-Fi and equally great Surround sound products... they are perhaps most famous for their amplifiers.
This Arcam is one of our favourite introductions to the world of Hi-Fi amps - it is an amazingly punchy and solid amp with plenty of inputs and a sleek, clean design.
The Arcam FMJA19 is a multi award winning integrated stereo Hi-Fi amplifier that is modern, stylish and sleek in design and offers a musically satisfying experience. It has a much more musical, warm and inviting sound than a majority of Surround Sound / AV Receivers out there and certainly drives speakers in a more musically satisfying manner. This Arcam will power a majority of speaker designs and tends to give a nice big soundstage with a dynamic sound.
Like many great Hi-Fi designs - the Arcam doesn't need to change models every year - in fact, it has already become a classic. Good circuit design is good circuit design, and in Audio that means it should still be making sweet music for many, many years.
The Arcam A19 features 8 analogue inputs (including a quality MM Phono stage), so there is no shortage of analogue inputs ... there's even a high quality dedicated headphone output for personal listening sessions!
On the back there is also a dedicated high quality Arcam accessory power output jack so the A19 can be expanded further to become a digital hub with optional Arcam add-ons such as the award winning Arcam irDAC-II Digital to Analogue converter.  So why not let the Arcam A19 form the centre of a great Hi-Fi system in your home or office, and remember, this "baby" Hi-Fi amp is deservedly recommended by many a Hi-Fi magazine over the years.
...
SAVI Systems are Perth's Premium Arcam Authorised Hi-Fi Dealers
...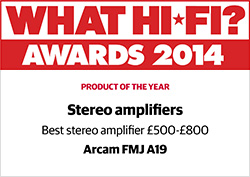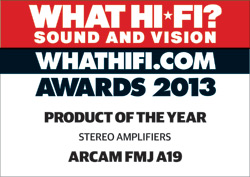 Arcam FMJ A19 Information and Reviews